Homeowner Information
At USA Roofing & Construction we understand the challenges of being a homeowner. Most often, those challenges center around weather damage and making insurance claims as a result. Through our experience, we have been able to advise homeowners in these areas. Below, you will find valuable information to help you when you suffer weather damage and information to guide you through your claims process.
Hail Damage
In most cases, hail damage is not visible from ground level. Hail will normally break through a shingle, or bruise it. Bruises are difficult to detect in some cases. A bruise is a mark on the shingle where granules have been loosened by the hail ball.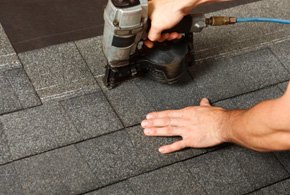 Bruises can be caused by minimal size hail, depending on the wind speed and the length of time the hail fell. The loss of these granules will greatly reduce the life of the shingle. It is important to note that metal roofs, as well as wood roofs, can be damaged by hail.
A mere dent in a metal roof will cause stress on the finish, and will usually result in a crack in the finish. This crack will allow the metal base to be exposed to the rain and sun, and will rust, which will eventually cause a leak. A split in a wood shingle or shake, caused by a hail ball, will also leave the base of your roof exposed to the weather and sun. This will also eventually turn into leaks.
Different Types Of Damage
HAIL: Loss of granule layers on the shingle will cause the organic base center of the shingle to be exposed to the sun's U.V. rays. This will cause deterioration of the shingle and reduce the life of the shingle by as much as 40%, which will eventually result in leaks.
HIGH WINDS: Winds over 50 mph will lift the shingle, causing the seal to break, never to reseal itself. The shingle will eventually blow off to expose your roof. This will eventually result in leaks.
IMPROPER VENTILIATION: Improper ventilation in your attic will cause the shingles to scorch and bubble up, causing a serious problem. This is more common on older homes. Have your roof inspected for proper ventilation if you feel this might be a problem for you.
Undetected Damage
It is possible that you will have roof damage and not even know. Although you may have no apparent leaks leaving stains on your ceilings, your roof may be leaking in your attic. In some cases, a leak may be detected by a mildew smell caused by wet insulation in your attic. Such leaks may not show up visibly for some time. It is best to have your roof inspected just for peace of mind.
Making A Claim
If you have had hail in your neighborhood, you should contact your insurance company. They will assign you a claim number and an adjuster. The adjuster will come out to inspect your roof in approximately one week. The adjuster will inspect your roof for visible signs of damage. IT IS ADVISABLE TO HAVE YOUR ROOFING CONTRACTOR PRESENT DURING THE INSPECTION.
My Adjuster Said, "No Damage"
If this is the result of your inspection, you are entitled to have a re-inspection by another adjuster within that company. If for any reason you are not satisfied with the claim, do not settle. Let us work for you with your insurance company. We are experienced in this, and believe you should be paid fairly.
Discrepancies
Most discrepancies occur when the adjuster does not find the same amount of damage as your roofing contractor. It could be due to several reasons. It could be an adjuster not experienced in this area, or it could be that they are pressed for time. They might even be having a bad day. Whatever the case, it is important that you have immediate input on their decision at the time of the inspection. We strongly suggest having your roofing contractor present to represent you during the time of the inspection. We will work with your adjuster to determine the extent of your damage, and will ensure that you are paid fairly to take care of all damages.
How The Insurance Company Pays The Claim
In some cases, the insurance company pays the entire claim right up front. This may happen at the time of the inspection or just a few days later. Some insurance companies will pay you in the form of two different checks. The first check will come a few days after the inspection and will be for the "actual cost value" to replace your roof minus the "depreciation". The second check will be for the depreciation, and will come after the roof has been replaced. This check will be issued to you after an invoice has been sent to your insurance company by USA ROOFING & CONSTRUCTION.
Your Mortgage Company
If you have a mortgage on your home, the check might be made out to you, your spouse, and the Mortgage Company. In this case, all parties must endorse the check. If the Mortgage Company is local, it might be best to hand-deliver the check to expedite the endorsements. This can save you as much as 30 days in getting your roof replaced.
The Roofing Process
We install our roofs according to the National Roofing Contractors' guidelines. We remove the old shingles and then check for any apparent damage with the decking. We inspect all chimney flashing and other flashing. We nail all our work with the proper nail specified by the manufacturer's warranty. Our roofs are installed strictly to code.
Weather Delays
Our crews are very cautious with the threat of rain. We will not start a job on a day that has a forecast of a 30% or more chance of rain. We then will only remove what can be replaced in a safe period of time.
Contact USA Roofing & Construction today at 817-773-8067 for more questions or send us an email for more information.